All the Wild Folk Presents Green Rock River Band + Man the Lifeboats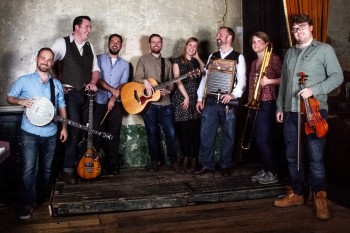 Saturday 25 November 2017
Green Rock River Band + Man the Lifeboats
Doors: 8pm till Midnight
Entry Price: £6 Advance | £8 Door
» Buy Tickets
Americana * Traditional Folk * Brass Jazz * Country

GREEN ROCK RIVER BAND
The 8-piece string band is an upbeat, energetic fusion of Americana, traditional folk and brass jazz, echoing times gone by when music halls were filled with the party sounds of banjos, fiddles, guitars, washboards, trombones, brass and soaring harmonies.
GRRB are:
FIDDLE & VOCALS – Matt Markwick,
BANJO & VOCALS – Jeremy Sachs,
GUITAR, UKE & VOCALS – Paul Freeman,
VOCALS – Rebecca Freeman,
BASS – Bowden Smith,
PERCUSSION/DRUMS – Mark Duddy,
TROMBONE – Sarah Mann,
WASHBOARD, "The Truth" – Rich Stillman
Man The Lifeboats play raucous, ramshackle, folk music. For those who like a drink with their tunes.
Man the Lifeboats are:
Rich Quarterman – Lead vocals, acoustic guitar, stompbox and songwriting.
Harvey Springfield – Mandolin, blues harmonicas, background vocals and accordion.
Sam Barker – Bass and background vocals.
Dan Gilroy – Fiddle, tin whistle and background vocals.