All the Wild Folk With The Old Jelly Rollers, Carly E. + Lostboy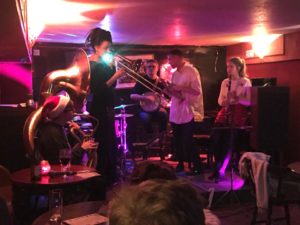 Saturday 27 May 2017
The Old Jelly Rollers, Carly E. + Lostboy
Doors: 8pm till Midnight
Entry Price: £6 advance / £8 at the door
» Buy Tickets
New Orleans Swing * Cello Folk * Acapella Song

The Old Jelly Rollers is a traditional and second line jazz band formed to celebrate the centennial of the first ever jazz recording (1917). They comprise of musicians from Trinity Laban Conservatoire of Music and Dance. They aim to bring the music, culture and positive energy of the Crescent City to both the streets and clubs of London and to schools to inspire and educate young people about this rich musical tradition.
Trained as a classical musician, Argentinian cello ace Carly E. toured with National Youth Orchestras from France to China before her experiences living and working in England and Argentina inspired her to take the path of a singer-songwriter. Carly recently released her first EP Blue Funny You, recorded in Buenos Aires, and her debut album will release in 2017. Her sound is passionate, raw and honest.
Lostboy are two guys and a shaker singing acapella folk.
Special guest act TBA!