All the Wild Folk With Colomboloco + Craig Weir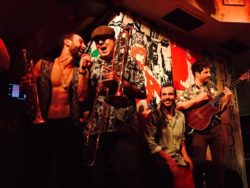 Saturday 20 January 2018
Colomboloco + Craig Weir
Doors: 8pm till Midnight
Entry Price: £6 advance / £8 at the door
» Buy Tickets
Tarantella * Classical Opera * Balkan * Ska * Jazz * Reggae * Folk

Colomboloco's show blends fast and furious folk beats from across mediterranean Europe with Tarantella, Classical Opera, Balkan, Ska, Jazz, and Reggae in an epic journey around the globe worthy of Colombus himself. "The most fun you can have in London with or without your clothes on." "The devil has 5 new souls on his roster and we invite you to join them in the inferno!" Prepare for a blitz of eccentric theatricality, wild gypsy beats, virtuoso fingerwork, lunatic dancing and inexplicable outfits.
Colomboloco's musicians hail from Italy, Spain Greece and Turkey, performing in their own languages and also in English, French, Hebrew and Russian. They've enjoyed residencies in many of London's most prestigious music venues, have performed at festivals and toured across the UK and Europe, and have popped up at private parties for the likes of The Rolling Stones, Deep Purple and Johnny Depp.
"Bands don't come more fun, frivolous and ballsy than Colomboloco. This joyous mix of Italian, Spanish, Greece, Turkish, Gypsy and Ska music makes for a sound somewhere between The Godfather and the best festival band you've ever seen in your life" Grazie mille to Adam Pickering of Sounddhism
Craig Weir is a folk troubadour from Dundee. He's best known for his bagpiping performances across the globe which have included spots with Queen + Adam Lambert, The Libertines, The Kaiser Chiefs and Bay City Rollers. Also frontman of the Celtic rock band Gleadhraich, Craig is now turning his hand to being frontman of his latest project, Craig Weir & the Cabalistic Cavalry, an indie folk act who formed in early 2017 with the debut single 'Highland Road' having been released in March of 2016. The track features guest poetry contributions from many of the afore mentioned acts (Brian May, The Libertines, Kyle Falconer et al). For this night Craig will be accompanied by Ross White, who also performs in both bands.