All the Wild Folk With Alisa Ten and Vanya Juke + Dakota Jim and His Family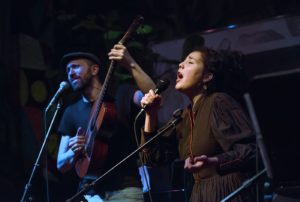 Saturday 27 January 2018
Dakota Jim and His Family + Alisa Ten & Vanya Juke
Doors: 8pm till Midnight
Entry Price: £8 advance / £10 at the door
» Buy Tickets
All the wild Folk presents the first UK concert of the ace young Russian duo Vanya Juke & Alisa Ten, journeying through genres and periods with nods to David Lynch, Soviet Pop, Alexander Vertinsky, Leonid Fedorov, Spanish and Mexican music. This will be followed by a set of swinging Americana by Dakota Jim and His Family…

Vanya and Alisa started playing together as a duo about a year ago and are already packing clubs in Moscow. They also recently toured the US. Their program is a bold and adventurous journey through genres and periods, including tributes to David Lynch, lesser-known Soviet pop-songs, Alexander Vertinsky blended with Leonid Fedorov, Spanish and Mexican music and many other detours.
Vanya Juke is a virtuoso guitarist working in a multitude of genres, including klezmer, blues and Russian Romani tradition. As well as being a leader of klezmer band "Naekhovichi", Vanya has taken part in many of the interesting projects of the Russian independent music scenes of the 90s and 00s, collaborating with "Dobranotch", Irina Bogushevskaya, Fedor Chistyakov, Psoj Korolenko and Daniel Kahn (to name a few).
Alisa Ten is a rising star of Moscow scene with a unique voice who also does not limit herself to any particular genre. Her projects range from Early music and Russian Liturgical Music to Spanish (with Moscow Andalusian Orchestra and White Nightingales) and Mexican music, to contemporary academic music and her own very personal renditions of Auktyon and Bjork.


Dakota Jim and His Family play low down swinging blues, jazz and Americana with a barrel-load of soul.