Antic Follies Presents Cabaret at Jamboree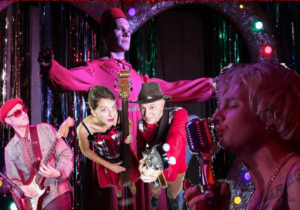 Wednesday 14 February 2018
Various Performers
Doors: 7pm till 11pm
Entry Price: £5 at the door
» Buy Tickets
The February Antic Follies night of Cabaret, Burlesque, Comedy, Bluegrass! and Swing at Jamboree. "…the dirty alternative to Soho's glitz, a diabolical night of cabaret and burlesque. Experience the rusty harbour glamour of Limehouse and the magic junk-shop contours of Jamboree, whilst the Antic Follies roster of cabaret and burlesque performers titillate and tease."

Guest performers include!
Oliver Smart! Founder of the remarkable Folded Feather puppet company, Oliver is an exceptional performer with a amazing gift for bizarre and delightful puppetry, using a wide selection of recycled materials. He's built and performed with everything from a 6 foot puppet made from car parts to a modified and styled sock. Expect the unexpected!
BANG CROSBY and GAY CHARLES star in HOT NOTE$! Bang Crosby is a trans dimensional trickster and shaman gangster. He can generally be found in GALACTIC taverns doing shots of ayahuasca or crawling out of coal scuttles in remote parts of WIGAN.. Gay Charles is a master of melodic tapestries and Yorkshire's number one DOG owner. He can be found under a full moon heat seeking HOT NOTE$ on the banks of the river Nylon, just round the corner from THE SENSATIONAL Pontefract tin foil museum.
Nick Doyne-Ditmas! Aside from being the bass player of our house band The Bohemianauts, Nick is a multi instrumentalist and music teacher, with quite a presence on the contemporary alternative music scene, having played with Charles Heyward, Crackle, Monkey Puzzle Trio and Pinski Zoo, to name a few. Tonight he'll be performing a set of his own songs on guitar.
Crazy Pony! international bluegrass duo are from England and Switzerland. They play traditional songs and tunes with some original composition in a bluegrass stile, with a lot of dynamics and a slice of jazz.
A furious banjo, a groovy bass, beautiful harmonies and not forgetting the famous surprises! Founded in 2011, the duet have performed all over Europe and around the world!
As always, your host for the evening will be the inimitable Tom Baker, who will also finish the night with a set from his band The Bohemianauts.
"The Bohemianauts get your feet moving with their demi-monde accordion-led decadence and bastard cabaret carnivalism. Expect Polka, Tango, Waltz and Gypsy Swing with songs about vodka, David Icke, the end of the world and unrequited dread."