CHILLI FRIED PRESENTS "THEY SHALL NOT PASS" Celebrating the Spirit of the Battle of Cable Street With She'Koyokh + The Kosher Nostra DJs!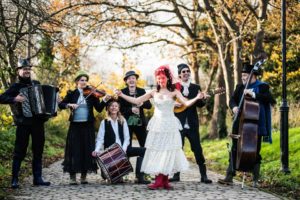 Friday 6 October 2017
She'Koyokh + The Kosher Nostra DJs
Doors: 8pm till Midnight
Entry Price: £5 advance / £7 at the door
» Buy Tickets
The Battle of Cable Street took place in October 1936, when a group of Fascists, led by Oswald Mosley, marched on the East End of London (home to a large Jewish community), only to be stopped by half a million local residents and activists. Under the banner "They Shall Not Pass" they fought the fascists back. With the Far Right, racism and bigotry CURRENTLY a threat in the UK and across Europe, we celebrate the spirit of protest and unity exemplified by the Battle of Cable Street with a party right on the street itself.

Live on stage, the UK's finest exponents of klezmer, Balkan and Turkish and Eastern European music, She'Koyokh. Their name is a Yiddish word meaning "nice one!" and they've been hailed as "one of the finest and most entertaining British-based exponents of global music" (The Guardian), She'Koyokh have spent fifteen years absorbing the rich folk music traditions of Jewish Eastern Europe, Turkey and the Balkans. A live force to be reckoned with, they're a wild swirl of violin, clarinet, jazzy guitar licks and dance-inducing percussion, plus the sweet and passionate voice of Turkish singer Cigdem Aslan. Their latest critically acclaimed album, First Dance on Second Avenue, is out now on Riverboat Records.
On the decks, The Kosher Nostra DJs AKA Jamie Renton and Norman Druker, spinning a tuchas-shaking selection of klezmer, Jewish jazz, kosher blues and circumcised soul.