Des Was a Bowie Fan 3am Clubnight: A Christmas Special – With Guests The Wolfhounds, Witching Waves + The Plan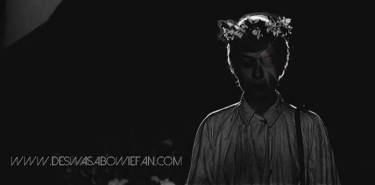 Friday 15 December 2017
The Wolfhounds, Witching Waves, The Plan + the Des Was a Bowie Fan Clubnight
Doors:
Entry Price: Gig + Club: £5 advance / £7 door. Club Only (After 10.30pm): £4 (cheaplist + members) / £6
» Buy Tickets
Jamboree welcomes the popular London clubnight Des Was a Bowie Fan for a Christmas Special – festive classic-tinged indiepop, new wave, 60s soul and rock'n'roll dancing till 3am with live musical guests the legendary Wolfhounds, Witching Waves and The Plan.

In the mid 1980s The Wolfhounds shat in the hand of NME's c86 movement with a stream of ferocious nuggets with their lyrical cues on the outside of everything, firing off into a glorious obscurity as the walls of heartache hardened around them. After a brief 15 year break, they're back there now, cracking out venoumous epics that get up inside and rattle around your head. 2016's Untied Kingdom (…or how to come to terms with your culture) LP was a typically sensitive, passionate, muscular modern lament in the language of soul. On this night they'll fill your stocking with hits from their arsenal of classic and modern Pop.
"A Romford Wu Tang Clan" – Daniel Williams (Tangents)
"Like Eric Burdon on mescaline fronting the MC5" – Paul Sutton (Pink Label)
Witching Waves are a Pop twister that blows through your door and sweeps your heart a hundred foot in the air; a perpetual thrill-giver of a band in the finest go-faster spirit of post-punk. Their last LP, 'Crystal Cafe', was released via Soft Power Records in 2016.
The Plan, featuring a cast of players that include former members of WETDOG and the Subway Sect, play shimmering post-punk with wonderful oddball arrangements and the quivering melodic edge of Fire Engines. Their latest LP, 'Nervous Energy' was self-released this month.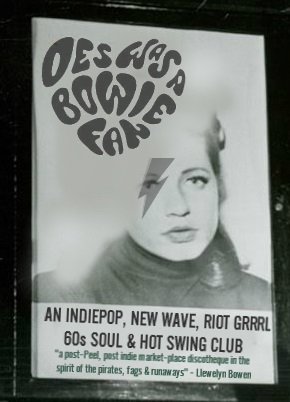 DANCING
Indiepop * New Wave * Rock'n'Roll * 60s Girl Groups * Motown * Northern Soul * Hot Swing *
Expect to hear: The Waitresses * Bowie and Bing * Pulp * Buddy Holly * Velvet Underground * The Beach Boys * The Ramones * The Ronettes * Nat King Cole * New Order * Blondie * Belle and Sebastian * The Supremes * Jona Lewi * Le Tigre * The Smiths * The Cure * Martha and the Vandellas * Shakin' Stevens * Joy Division * Half Man Half Biscuit * Talking Heads * The Kinks * Dexys Midnight Runners * The Beatles * The B-52's * The Cure * The Shangri-Las * Elvis * Orange Juice * Aretha Franklin * Le Tigre * Jackie Wilson * Candi Staton * Jonathan Richman * Flowers * Richie Valens * The Temptations * The Turbans * Tcha Limberger & His Budapest Gypsy Orchestra & more.
(Requests for the night to deswasabowiefan@gmail.com)
Entry:
FOR CONCERT & CLUBNIGHT:
£5 advance / £7 door
FOR CLUBNIGHT ONLY (after 10.30pm)
£4 members, Cable Street residents & cheaplist / £6 other.
For cheaplist email deswasabowiefan@gmail.com before 10pm.