Des Was a Bowie Fan 3am Clubnight + Drömstad (EP Launch) + BlackMoon1348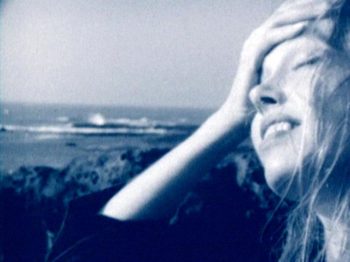 Friday 11 August 2017
Drömstad, BlackMoon1348 + Des Was a Bowie Fan
Doors: 8pm till 3am
Entry Price: Gig + Club: £5 advance / £7 door. Club Only (After 10.30pm): £4 (cheaplist + members) / £6
» Buy Tickets
Jamboree welcomes the popular London clubnight Des Was a Bowie Fan, indiepop, new wave, 80s synth pop, 60s soul and rock'n'roll dancing through the early hours, with live musical guest the Skövde / South Coast dreamers Drömstad launching their 'milk!' EP and BlackMoon1348 filtering the magical mystery music of Tibet through industrial doomcore and tantric ritual mantra.

Drömstad have a sound of howling Pop empathy that gets into your bones; a euphoric, melancholic jangle and a burning lyrical interior, matching the serpentine dreaminess of Slowdive with a vivid, sharp-edged soul.
"The band exists in a black-leather dream city between Neko Case and Cocteau Twins; sweeping indie noir in a shoegaze-tinted Pop fantasy" – Oyster Boy
"From the depths of a clandestine Tibetan cave, lying high on a mountain peak, BlackMoon1348 was reincarnated". The band play an extraordinary form of synth-layered Tibetan doomcore taking in ritualistic Tibetan chanting and tantric mantra, filled with Tibetan drums, Gyaling (Tibetan Oboe) and ceremonial Tibetan (Rolo) cymbals, bathed in solid red lights.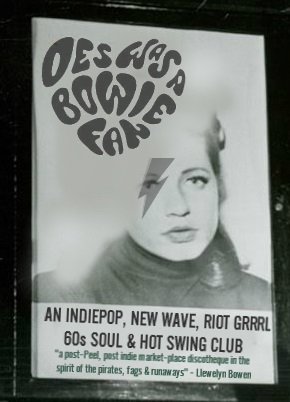 DANCING
Indiepop * New Wave * Rock'n'Roll * 60s Girl Groups * Motown * Northern Soul * Hot Swing *
Expect to hear: The Smiths * Pulp * The Supremes * Blondie * The Kinks * Dexys Midnight Runners * The Beatles * The B-52's * The Cure * The Shangri-Las * Belle and Sebastian * Elvis * Orange Juice * The Beach Boys * David Bowie * ballboy * Aretha Franklin * The Ramones * The Ronettes * Marvin Gaye * Leonard Cohen * Le Tigre * Jackie Wilson * Hefner * Candi Staton * Jonathan Richman * Flowers * Richie Valens * The Temptations * The Turbans * Tcha Limberger & His Budapest Gypsy Orchestra & more.
(Requests for the night to deswasabowiefan@gmail.com)
Guest DJ – Ian Watson (How Does it Feel to be Loved? / Great Big Kiss): Ian runs the legendary London indiepop / Northern Soul club How Does It Feel To Be Loved?. He also runs the ace 60s Soul / Rock'n'Roll club The Great Big Kiss. He was also a writer for Melody Maker and now writes occasional pieces on Pop culture for The Guardian. Expect a twist on all of the above between 11 and 12.
Entry:
FOR CONCERT & CLUBNIGHT:
£5 advance / £7 door. ADVANCE TICKETS
FOR CLUBNIGHT ONLY (after 10.30pm)
£4 members, Cable Street residents & cheaplist / £6 other.
For cheaplist email deswasabowiefan@gmail.com before 10pm.
ADVANCE TICKETS