Des Was a Bowie Fan 3am Clubnight With The Indelicates (LP Launch) + Martin White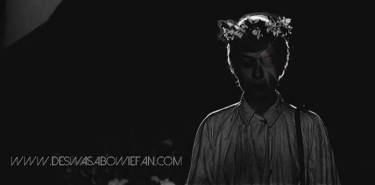 Friday 15 September 2017
The Indelicates, Martin White + Des Was a Bowie Fan Clubnight
Doors: 8pm till 3am
Entry Price: Gig + Club: £5 advance / £7 door. Club Only (After 10.30pm): £4 (cheaplist + members) / £6
» Buy Tickets
Jamboree welcomes the popular London clubnight Des Was a Bowie Fan, indiepop, new wave, 80s synth pop, 60s soul and rock'n'roll dancing through the early hours, with live musical guests the Brechtian indiepop / rock'n'roll band The Indelicates, launching their new 'Juniverbrecher' LP, and Martin White of the Mystery Fax Machine Orchestra.

"Neo-Brecht/Weill theatricality? Check. Profane razor strop wit? Check. Irreverent misanthropy? Check. Scathing socio-cultural critiques? Check. Acid sweet indiepop songcraft? Check. Meet the fabulously unfashionable, unfashionably fabulous Indelicates." ROLLING STONE
"…the Indelicates have been my favourite new band in every end of year poll I've been asked to complete in the last four years, but that is not enough. They are going to become the answer to every question put to me…" EDDIE ARGOS (Art Brut)
Martin White performs an "eclectic shower of warped show tunes and Bonzo Dog Doo-Dah Band-ish pastiches with the skill and arrangement elan of a classically-trained aesthete" – Johnny Sharp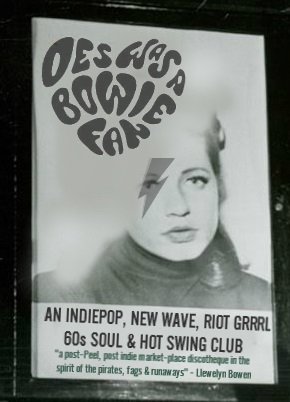 DANCING
Indiepop * New Wave * Rock'n'Roll * 60s Girl Groups * Motown * Northern Soul * Hot Swing *
Expect to hear: The Smiths * Pulp * The Supremes * Blondie * The Kinks * Dexys Midnight Runners * The Beatles * The B-52's * The Cure * The Shangri-Las * Belle and Sebastian * Elvis * Orange Juice * The Beach Boys * David Bowie * ballboy * Aretha Franklin * The Ramones * The Ronettes * Marvin Gaye * Leonard Cohen * Le Tigre * Jackie Wilson * Hefner * Candi Staton * Jonathan Richman * Flowers * Richie Valens * The Temptations * The Turbans * Tcha Limberger & His Budapest Gypsy Orchestra & more.
(Requests for the night to deswasabowiefan@gmail.com)
Entry:
FOR CONCERT & CLUBNIGHT:
£5 advance / £7 door
FOR CLUBNIGHT ONLY (after 10.30pm)
£4 members, Cable Street residents & cheaplist / £6 other.
For cheaplist email deswasabowiefan@gmail.com before 10pm.