Des Was a Bowie Fan 3am Clubnight With Balothizer + Helen McCookerybook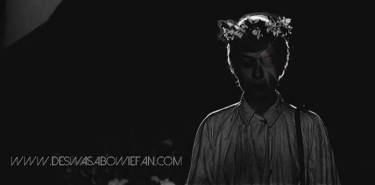 Saturday 11 November 2017
Balothizer. Helen McCookerybook + the Des Was a Bowie Fan Clubnight
Doors: 8pm till 3am
Entry Price: Gig + Club: £5 advance / £7 door. Club Only (After 10.30pm): £4 (cheaplist + members) / £6
» Buy Tickets
Jamboree welcomes the popular London clubnight Des Was a Bowie Fan, indiepop, new wave, post-punk, 80s synth pop, 60s soul and rock'n'roll dancing through the early hours, with live musical guests Balothizer and Helen McCoookerybook with a bubble-gun blast of Greek post-punk, underpinned by the sweet rhythms of Cretan roots, and acoustic Pop.

Balothizer play sepia-tinted, Gothic Mediterranean music; high octane post-punk with achingly romantic strains of Cretan folk. They call it "Cretan music from Hell".
8.45 till 9.30: Helen McCookerybook was a John Peel favourite through the '80s and '90s, singing and playing bass in Brighton outsider indiepop/punk bands Jody and the Hooligans, The Smartees and The Chefs before forming her own sumptuous, country-inflected Helen and the Horns. She has more recently helped write women back into the official history of punk with her book 'The Lost Women Of Rock: Female Musicians Of The Punk Era', which has interviews with The Mo-dettes, The Slits and Dolly Mixture amongst others. Helen's songs are beacons of outside of everything lyricism, and her set shall consist of songs from her new LP 'The Sea' and classics of yore.
Then at 10.30 till 3am…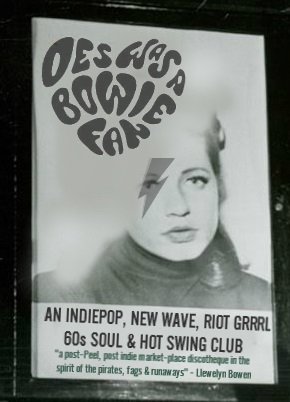 DANCING
Indiepop * New Wave * Rock'n'Roll * 60s Girl Groups * Motown * Northern Soul * Hot Swing *
Expect to hear: The Smiths * Pulp * The Supremes * Blondie * The Kinks * Dexys Midnight Runners * The Beatles * The B-52's * The Cure * The Shangri-Las * Belle and Sebastian * Elvis * Orange Juice * The Beach Boys * David Bowie * ballboy * Aretha Franklin * The Ramones * The Ronettes * Marvin Gaye * Leonard Cohen * Le Tigre * Jackie Wilson * Hefner * Candi Staton * Jonathan Richman * Flowers * Richie Valens * The Temptations * The Turbans * Tcha Limberger & His Budapest Gypsy Orchestra & more.
(Requests for the night to deswasabowiefan@gmail.com)
Entry:
FOR CONCERT & CLUBNIGHT:
£5 advance / £7 door
FOR CLUBNIGHT ONLY (after 10.30pm)
£4 members, Cable Street residents & cheaplist / £6 other.
For cheaplist email deswasabowiefan@gmail.com before 10pm.