Des Was a Bowie Fan 3am Party With The Billy Shinbone Show + Schande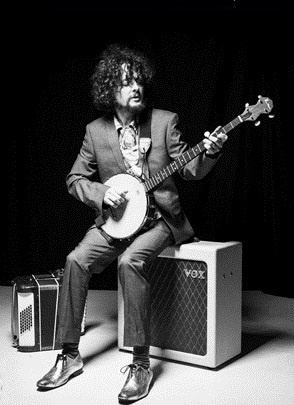 Friday 10 March 2017
The Billy Shinbone Show + Schande + Des Was a Bowie Fan Clubnight
Doors: 8pm till 3am
Entry Price: Gig + Club: £6 advance / £8 door. Club Only (After 10.30pm): £4 (cheaplist + members) / £6
» Buy Tickets
Jamboree comes alive through the late-late hours with our monthly blast of Indiepop, New Wave, 80s Synth Pop, 60s Soul and Rock'n'Roll dancing with the popular London clubnight Des Was a Bowie Fan. Live musical guests on the night are Glastonbury's The Billy Shinbone Show with a sweet dose of bluegrass and Schande with a blaze of West Coast dreampop.

The night shall run like this:
9.45 till 10.30pm: The Billy Shinbone Show is a sublime offshoot of honkytonk heroes Flipron, coming from deepest Glastonbury with a bunch of songs that dance and twist around your heart like a blue mountain dream, spanning the worlds of Hillbilly boogie, skiffle, bluegrass and rock'n'roll, with a touch of those Honky-Tonk Disco Blues.
"a bunch of songs that fly hair in the breeze through hills and fields like Kevin Rowland of Dexys Midnight Runners on Earl Scruggs' horse, with a riproaring banjo-fuelled rhythm and lyricism."
9 till 9.30pm: Recently re-formed with a cast of players from the DIY back-alleys, Schande have transported their dreamy, noisy and atmospheric West Coast Pop sound from San Franscisco to London. Calm, sweet and roaring in equal proportions, they're like "Throwing Muses, Cocteau Twins and The Beach Boys in a hut under Blackfriars bridge with blue lights and a sack full of drugs".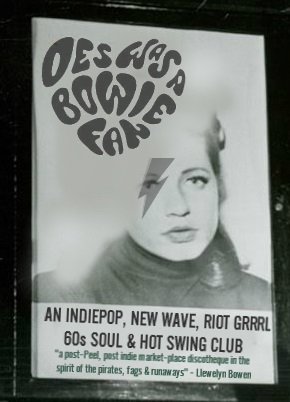 10.30 till 3am: DANCING
Indiepop * New Wave * Rock'n'Roll * 60s Girl Groups * Motown * Northern Soul * Hot Swing *
Expect to hear: The Smiths * Pulp * The Supremes * Blondie * The Kinks * Dexys Midnight Runners * The Beatles * The B-52's * The Cure * The Shangri-Las * Belle and Sebastian * Elvis * Orange Juice * The Beach Boys * David Bowie * ballboy * Aretha Franklin * The Ramones * The Ronettes * Marvin Gaye * Leonard Cohen * Le Tigre * Jackie Wilson * Hefner * Candi Staton * Jonathan Richman * Flowers * Richie Valens * The Temptations * The Turbans * Tcha Limberger & His Budapest Gypsy Orchestra & more.
(Requests for the night to deswasabowiefan@gmail.com)
Entry:
FOR CONCERT & CLUBNIGHT:
£6 advance / £8 door
FOR CLUBNIGHT ONLY (after 10.30pm)
£4 members, Cable Street residents & cheaplist / £6 other.
For cheaplist email deswasabowiefan@gmail.com before 10pm.