Des Was a Bowie Fan 3am Clubnight With Tigercats + Deerful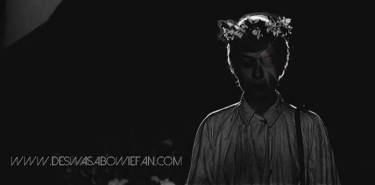 Friday 13 October 2017
Tigercats, Deerful + Des Was a Bowie Fan Clubnight
Doors: 8pm till 3am
Entry Price: Gig + Club: £5 advance / £8 door. Club Only (After 10.30pm): £4 (cheaplist + members) / £6
» Buy Tickets
Jamboree welcomes the popular London clubnight Des Was a Bowie Fan, indiepop, new wave, 80s synth pop, 60s soul and rock'n'roll dancing through the early hours, with live musical guests the ace African folk-inflected indiepop band Tigercats and electronic dreampop act Deerful.

Tigercats are a band from East London who bring a multiplicity of rhythms drawn from music cultures far and wide into their jagged, wiry Pop music. Born from the glorious Esiotrot a few years back, their debut LP 'Isle of Dogs' was released on Fika Recordings in 2012. Sounds XP said it sounded like a "bastardised Bo Diddley beat chained to an indiepop set up; part Orange Juice, part Hefner". Their second LP 'Mysteries' followed in February 2015, a record with a "measured brilliance and a pulsating pop heart" (A Layer of Chips).
"Tigercats make music that stems from the weird collision point between Half Japanese, Hefner, Daniel Johnston, Prince, and Orange Juice, shuttling through this heady constellation armed with a pop sensibility marked out by its eloquence and ferocity. Duncan Barrett and Laura Kovic articulate sweet laments and aspersions over swathes of magnetic agit-glam-punk noise which prowls an alternately feral and refined musical terrain."
Deerful plays intricate electronic Pop music with a dreamy, livewire ambiance.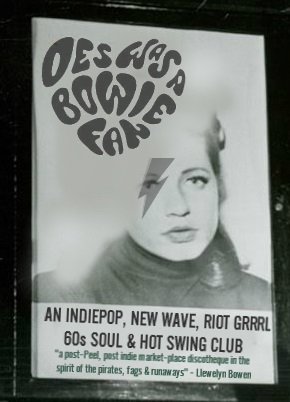 DANCING
Indiepop * New Wave * Rock'n'Roll * 60s Girl Groups * Motown * Northern Soul * Hot Swing *
Expect to hear: The Smiths * Pulp * The Supremes * Blondie * The Kinks * Dexys Midnight Runners * The Beatles * The B-52's * The Cure * The Shangri-Las * Belle and Sebastian * Elvis * Orange Juice * The Beach Boys * David Bowie * ballboy * Aretha Franklin * The Ramones * The Ronettes * Marvin Gaye * Leonard Cohen * Le Tigre * Jackie Wilson * Hefner * Candi Staton * Jonathan Richman * Flowers * Richie Valens * The Temptations * The Turbans * Tcha Limberger & His Budapest Gypsy Orchestra & more.
(Requests for the night to deswasabowiefan@gmail.com)
Entry:
FOR CONCERT & CLUBNIGHT:
£5 advance / £7 door
FOR CLUBNIGHT ONLY (after 10.30pm)
£4 members, Cable Street residents & cheaplist / £6 other.
For cheaplist email deswasabowiefan@gmail.com before 10pm.