Jamboree Needs Your Help: Fundraising Event – Juju's Take-Over (Saturday Nov 18th)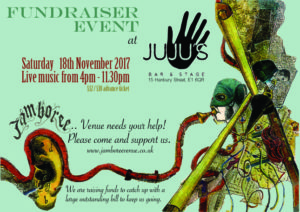 Saturday 18 November 2017
Rum Buffalo, Cretan Players, Toytown Hustle, Monk Spent Youth, The Bootleg Trio, Madame Loulou, The Tom Baker Puppet Show, DJs Jamie Renton & Ali Prince
Doors: 4pm till 11.30pm
Entry Price: £10 advance / £12 at the door
» Buy Tickets
Hello all, it is at this time where we need to ask you for your help, and in return we will give you a party. On top of the threat posed by the proposed re-development of our Cable Street Studios home, we have received a VAT bill which puts the future of Jamboree in jeapardy. Lacking any other means, the only way we can go about it is via fundraising. Please support us in any way you can, and invite your friends.

Our friends at the lovely Juju's, situated in the Truman Brewery quarter just off Brick Lane, have graciously answered our call for the use of a larger venue for this, granting us permission to use their beautiful space to throw something special – a seven and a half hour shebang featuring some of our favourite musical troubadours, including…
Rum Buffalo! Forged from the streets of London, Rum Buffalo fuse authentic old time swing with stomping hip hop rhythms. Frantic and rich in melodies – the most regal of renegades, this vaudevillian troop will put on a show you will never forget.
Jamboree Cretan Players! A performance of sweet Cretan music (from hell!) with the Jamboree Players. Cretan music is wild and unpredictable, markedly different to the disciplined bouzouki music of the Greek mainland, with endless melodies, one after the other in stomping rhythms, sometimes monotonous and archaic, sometimes almost ecstatic, and unmistakeable Asian influence.
Toytown Hustle are Kai 'Cat Face' Carter (guitar/vox), Monni (drums), Robyn Hemmings (double bass), Rufus (trombone) and Tim 'The Beard' (clarinet), playing a dreamy, surreal and wonderful brand of jazz-inflected pop, electro folk and hip hop.
Monk Spent Youth! Jamboree favourites Monk Spent Youth interpret the joyful exuberance and introspective mystery of Thelonious Monk, the "High Priest of Bebop".
Playing in a small group off-shoot formed from the core of The Top Shelf Band, Fred Snow and The Bootleg Trio deliver gnarly old barrel house vintage tunes and street smart wit.
Madame Loulou!. Garance Loulou regales us with French folk, Pop and Gypsy accordion wonder.
The Tom Baker Puppet Show! Frontman for bizarre cabaret band The Bohemianauts (and formerly international show band Fantasmagoria) Tom is an accomplished singer/accordionist, as well as an actor, compere, ventriloquist and occasional clown.
DJs Jamie Renton (Shout Collective) and Alistair Prince will play World Beats, African Rhythms, Groove and Soul.
Here's Jamie Renton's Protest Mix 2017
*A further fundraising event is scheduled for Limehouse Town Hall on December 9th.
*We are also open at Jamboree on this night with a great night of Balkan Folk and Iraqi Folk with Raka and Mutana.