Hearts and Daggers Presents Green Diesel + Seafoxes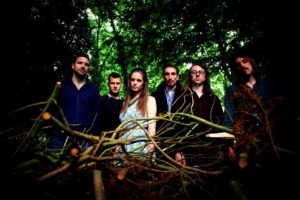 Saturday 25 February 2017
Green Diesel + Seafoxes
Doors: 8pm till Midnight
Entry Price: £6 Advance | £8 Door
» Buy Tickets
Traditional English Folk * Dreampop

Blending violin, mandolin, dulcimer and accordion with electric guitars and drums, Green Diesel's sound is born from a love of traditional English music and a desire to bring it to a modern audience.
The band perform original compositions steeped in folklore alongside inventive reworkings of traditional songs and tunes. They've appeared at the likes of Beverley Folk Festival, Edinburgh Fringe Festival, Broadstairs Folk Week and the Kelburn Garden Party, and shared stages with the likes of Gilmore & Roberts, Spiers & Boden and Fotheringay.
The band's third album 'The Hangman's Fee' (due for release in spring 2017 on Talking Elephant Records) features songs inspired by the darker side of folklore. Sinister spirits and bloodstained tales weave their way through the album backed by the signature Green Diesel sound. English folk, red in tooth and claw, performed by a band at the top of their game.'
Seafoxes play a special brand of folk-inflected, intimate dream-pop, evoking the lush, soft sound of Espers with a fierce individuality and genuineness. The band is an art-music collaboration based in the former docklands of East London. The members are a group of friends hailing from Norway, Scotland, England and Poland, who formed the band together in early 2015. Their music (created by Karina, Yvonne and Jane) features ethereal vocal harmonies and bewitching violin instrumentals, while Karolina's exquisite artwork is influenced by the diverse topics covered in the song lyrics.