Helter Skelter Presents: A Night of Klezmer, Yiddish and Iraqi Song With L'chaim Kapelye + Mutana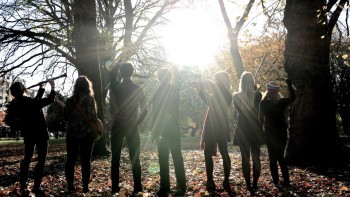 Friday 21 August 2015
L'chaim Kapelye + Mutana
Doors: 8pm till 12am
Entry Price: £7 at the Door / Free Entry Till 8.30
» Buy Tickets
Helter Skelter presents a night of wondrous Eastern European Jewish music and Iraqi song, introducing L'chaim Kapelye and Mutana…

L'chaim Kapelye is a 7-piece ensemble based in Manchester, who specialise in songs of the klezmer and Yiddish folksong tradition. Having started out as music students at the University of Manchester they developed their love of this most wonderful music under the supervision of Richard Fay and Ros Hawley, and have played at a variety of events in partnership with Manchester Jewish organisations such as the Muslim-Jewish Forum and the Manchester Jewish Museum. The band play regularly at the Manchester Jewish Museum for the "Gathering of the Klezmorim" events, and have also participated in fundraising ventures for the University of Manchester RAG (Raise And Give) society.
Opening the night will be Mutana with a rare and special performance of Iraqi song.