Helter Skelter With Gypsy Dynamite + Tiger Moth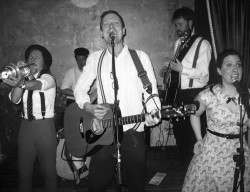 Saturday 18 February 2017
Gypsy Dynamite + Tiger Moth
Doors: 8pm till Midnight
Entry Price: £6 advance / £8 at the door
» Buy Tickets
Gypsy Jazz * Spanish and Italian Music * Gypsy Folk Punk * Balkan * Middle Eastern * Swing

Gypsy Dynamite play a wide repertoire of Jazz, Gypsy Jazz, Spanish and Italian music all rearranged in a fresh, unique and energetic style.
Gypsy Dynamite are:
Filippo Dall'Asta (guitar)
Giulio Romano Malaisi (guitar)
Dom Durner (vocals)
Tiger Moth play a wild mix of world Gypsy folk punk, ranging from Balkan, Middle Eastern and Hispanic to Swing, often at dizzying speed, a bass and horn-driven blast of brilliant madness.

Special guests TBC!