Helter Skelter With Paprika + Sanja Govorcin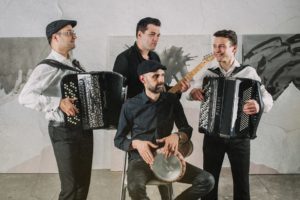 Saturday 24 February 2018
Paprika + Sanja Govorcin
Doors: 8pm till Midnight
Entry Price: £7 advance / £9 at the door
» Buy Tickets
Balkan Folk * Piano Song

Paprika is a band from Serbia, Romania, Bulgaria, Macedonia playing rapid-fire, swooning Balkan folk delivered by the lightning fingers of musicians born and bred into each of their unique traditions.
They released their eponymous album Paprika in 2011, and have performed all over the world, from New Zealand to Japan, the Royal Albert Hall to Sydney Opera House.
Sanja Govorcin is a brilliant pianist and singer from Salzburg.