Helter Skelter With Solana + Toytown Hustle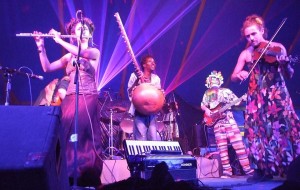 Friday 26 May 2017
Solana + Toytown Hustle
Doors: 8pm till Midnight
Entry Price: £6 advance / £8 at the door
» Buy Tickets
Gypsy Folk * Klezmer * Swing * Flamenco * Latin * Reggae * Trip-Hop * Electro Folk * Hip Hop

A helter skelter night of Gyspsy fever, electro folk and hip hop as the 6-piece stomping gypsy folk and klezmer band Solana return to Jamboree, accompanied by Toytown Hustle.
Solana are where plaintive Spanish guitars meet exuberant Celtic flutes and irrepressible fiddles in a feast of Jiggery-Polkary", so says John Blakely of Ear Trumpet Music. An instrumental gypsy-folk band from all over Europe, their sound encompasses folk, swing, klezmer, flamenco, Latin, reggae and trip-hop. Their live shows combine intricate arrangements with energetic performances and healthy improvisation, creating a merry vortex of dance.
Toytown Hustle are Kai 'Cat Face' Carter (guitar/vox), Monni (drums), Robyn Hemmings (double bass), Rufus (trombone) and Tim 'The Beard' (clarinet), playing a dreamy, surreal and wonderful brand of jazz-inflected pop, electro folk and hip hop.