Helter Skelter With La Mouche + Tell Tale Tusk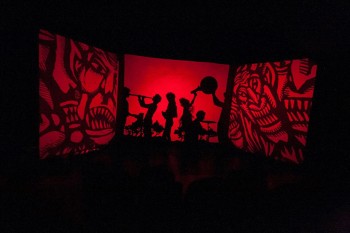 Friday 6 May 2016
La Mouche + Tell Tale Tusk
Doors: 8pm till Midnight
Entry Price: £6 Advance | £8 Door
» Buy Tickets
Carnival Macabre * Rock'n'Roll * Swing * Gypsy Jazz * Cabaret * Klezmer *

Parisians La Mouche play a kind of "festi-macabre" midway between rock'n'roll, swing and gypsy jazz with a cabaret theatricality. They're about contrast and paradox, the music both dark and colorful, disturbing and fun, with influences that range from The White Stripes to Django Reinhardt via Dizzy Gillespie, Tom Waits and Art Blakey.
WATCH/LISTEN: https://www.facebook.com/lamouchemusic/videos/847163128732088/
Tell Tale Tusk, playing this night as a trio, weave guitars, melodious fiddle and delicate drum beats around their signature 3-part vocal harmony, bringing a beguiling array of folk songs old and new.