Jamboree On the Water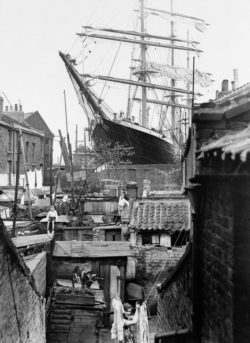 Saturday 21 October 2017
Colomboloco, Sarah Olivier Duo, Tom Baker, The Garance Loulou Duo, Ms Manray + The Des Was a Bowie Fan Clubnight
Doors: 7.40 till 1am
Entry Price: £25 Advance / £30 at the door
» Buy Tickets
The tide is full, the moon lies fair
Upon the straits; on the Thames coast the light…
Here's the first ever Jamboree on the Water, where the venue sets sail on the night tides of the Thames, drunk and debauched with a cast of performers and bands cut from the magic stuff…

Boarding is at 7.40pm at Festival Pier, Waterloo, and we will depart at 8pm, floating East and West till 1am on the Pride Of London – a 200-capacity double-decker ship, with a line-up of wondrous theatricality and musicality hand-picked in the spirit of the seas, in the spirit of Jamboree.
Performers include:
Colomboloco!
Colomboloco's show blends fast and furious folk beats from across mediterranean Europe with Tarantella, Classical Opera, Balkan, Ska, Jazz, and Reggae in an epic journey around the globe worthy of Colombus himself. "The most fun you can have in London with or without your clothes on." "The devil has 5 new souls on his roster and we invite you to join them in the inferno!" Prepare for a blitz of eccentric theatricality, wild gypsy beats, virtuoso fingerwork, lunatic dancing and inexplicable outfits.
Colomboloco's musicians hail from Italy, Spain Greece and Turkey, performing in their own languages and also in English, French, Hebrew and Russian. They've enjoyed residencies in many of London's most prestigious music venues, have performed at festivals and toured across the UK and Europe, and have popped up at private parties for the likes of The Rolling Stones, Deep Purple and Johnny Depp.
"Bands don't come more fun, frivolous and ballsy than Colomboloco. This joyous mix of Italian, Spanish, Greece, Turkish, Gypsy and Ska music makes for a sound somewhere between The Godfather and the best festival band you've ever seen in your life" Grazie mille to Adam Pickering of Sounddhism
Sarah Olivier's live shows are a sweet explosion of chanson, rock'n'roll, rap & blues. The Daughter of renowned artist Olivier O. Olivier, Sarah imbibed the bohemian atmosphere of her childhood eagerly, and struck out into the worlds of alt.cabaret, theatre, circus and film as an actor (including for cult auteur Roland Topor), dancer, clown and singer. She released her first solo album, the thrillingly eclectic, critically acclaimed 'Pink Galina' in 2013, and has been touring since with her formidable Paris-based band.
"The voice of a diva; the heart of an expressionist cabaret artist; and the energy of a rock 'n' roller." Télérama
"Sarah's writing is a delicious fantasy where life and death join in some sort of trance. The idea of partying is precious to the singer. A deep attachment to this moment lost in the night when everything splits in between self-abnegation, promiscuity, heat, intimacy, seduction, intoxication, when real has never been so real, when life vacillates and still wins at the end.
"Her voice is alternately hypnotic on Ophélie, tenderly melancholic on Matin d'été, rakish on Voleuse and furiously funny on Miss Coquette. Poetry is everywhere even in her crudest words. Lyrics reflect a magical world with a very real vision, a fantastic bestiary with wolves bumping into each other, flying mollusks, mink wings and chicks in distress. In the middle of all these digressions, this album still reaches a surprising feeling of serenity. On stage, Sarah Olivier commands respect while showing a cheeky sex-appeal, she still defends the values she has always stood for: femininity, independence and freedom."
Tom Baker! Accordion shanty-heartbreak. Frontman for bizarre cabaret band The Bohemianauts (and formerly international show band Fantasmagoria) Tom is an accomplished singer/accordionist, as well as an actor, compere, ventriloquist and occasional clown. His "songs of unrequited dread" and unusual covers will have you tapping your feet and singing along as you float into the sunset."
The Garance Loulou Duo, regaling us with French songs as we board and alight!
Ms Manray (aka performance artist Amanda Rodgers) presents 'Funeral March of a Marionette'.
"Are their screams coming from inside the house? Are they real? The only thing that prevents her childlike wonder and light-hearted innocence making a grand entrance is the burdened weight and terrifying sounds of her dress"
The Des Was A Bowie Fan clubnight – setting the dancefloor alight in the final hours with a set of 60s soul, rock'n'roll, new wave, 80s synth and indiepop.
"Limehouse's best (and only) indiepop, 60s soul and rock'n'roll club" – Oyster Boy
"One of London's best indie/ new wave / soul nights" – New Musical Express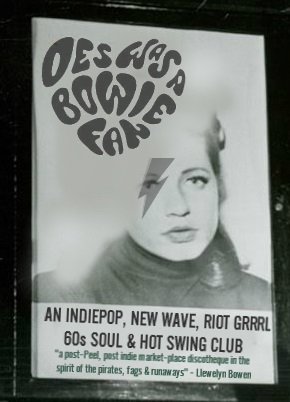 DANCING
Indiepop * New Wave * Rock'n'Roll * 60s Girl Groups * Motown * Northern Soul * Hot Swing *
Expect to hear: The Smiths * Pulp * The Supremes * Blondie * The Kinks * Dexys Midnight Runners * The Beatles * The B-52's * The Cure * The Shangri-Las * Belle and Sebastian * Elvis * Orange Juice * The Beach Boys * David Bowie * ballboy * Aretha Franklin * The Ramones * The Ronettes * Marvin Gaye * Leonard Cohen * Le Tigre * Jackie Wilson * Hefner * Candi Staton * Jonathan Richman * Flowers * Richie Valens * The Temptations * The Turbans * Tcha Limberger & His Budapest Gypsy Orchestra & more.
Also look-out for resident magician Stu-Pendous, performing his cunning card tricks at the bar.
Entry: £20 early-bird advance SOLD OUT
£25 later advance
£30 at the door
*Jamboree on the Water is a series of nights in which we put on our sea legs to raise funds in preparation for a proposed re-development of our Cable Street Studios home. It shall take place in the inclusive party spirit of Jamboree.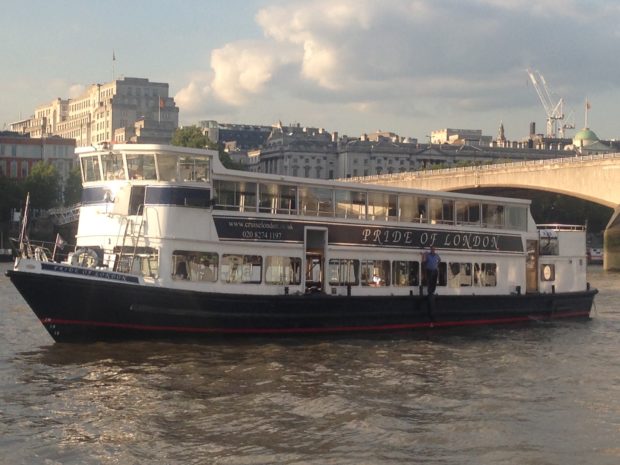 Here is our vessel for the epic journey, the double-decker beauty that is the Pride of London, commandeered by Sailor Steve and his family. Drinks will be at pub prices at the bar, and the sound is something else.
PS: There will still be an event at our actual Cable Street home on this night.