Jamboree: The Final Push – Fundraising Party at Limehouse Town Hall, Saturday Dec 9th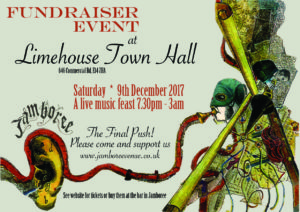 Wednesday 29 November 2017 - Saturday 9 December 2017
Whiskey Moon Face, Luce Lemons Fire Show, The Gator Dog Snappers, The Relatives, Helen Ainsworth Puppet Show, Apple Tart Lazer Show, Compere Fred Snow + the Des Was a Bowie Fan Clubnight
Doors: 7.30pm till 3am
Entry Price: £8 / £10 / £15 / £20 / £50 - your choice
» Buy Tickets
One more big push everyone. Please help us have the big night we need to keep going with Jamboree. We have hired Limehouse Town Hall on Saturday December 9th, and need to take the roof off! Share, plan, invite!

Here we go with the line-up as confirmed so far…
Whiskey Moon Face and Dakota Jim!
"Born into a puddle of whiskey beneath a stark winter moon and raised by cold winds, schooled in the warming spirits and hungry for more, Whiskey Moon face manage a natural, graceful sound built from many ports. The spellbinding voice that haunts Hackney's back streets, the clarinet that floats through open windows with impossible lyricism, and the double bass that meanders beneath. Always innovating and improvising with stark originality, Louisa Jones' troupe of underground musicians play with a virtuosity you could never expect. Songs which speak of the unspeakable, with understated humour, captivating storytelling and a transcendent spirituality.
"The result of a thousand drunken nights, countless dreamy days, and years of musical adventuring, Whiskey Moon Face take you on a voyage into a bohemian underworld which you never knew existed." – (Theo Bard)
The Whiskey Moon Face set will segue into a Dakota Jim swinging roots and Americana special to take us dancing into the late hours.
Luce Lemons! Brilliant fire performance artiste
The Gator Dog Snappers!
New Orleans Second Line Jazz, Rebirth and Trad Jazz! The Gator Dog Snappers met in Spotted Cat Music Club, Frenchmen Street, New Orleans, many moons ago, before manifesting in London Town, where they now nail the dancefloors at London's top swing dance events, and help fuel cross-cultural exchange by regularly hosting visiting musicians from New Orleans in their Lewisham digs. In the original spirit of the second line, they are also committed street musicians and grass roots activists, and can regularly be found sticking it to the Tories on protests across the UK.

The Rum Buffalo Trio!
Fusing authentic old time swing with stomping hip hop rhythms, and on this night pionerring a more Latino, Tom Waits, punk and jazz-inflected sound. Expect something special!
The Relatives!
The Relatives are Hosts of Resonance 104.4 FMs ´The Relatively Good Radio Show', where they ´Turn everyday London life into Folk Legend´. They also happen to be an ace folk band themselves.
Helen Ainsworth Puppet Show!
Helen Ainsworth is a critically acclaimed puppeteer, winner of both the diploma for an "Outstanding One Woman Performance" at Cluj International Puppet Festival, 2012 and "Most Original Production" at Prague International Puppet Art Festival, 2010. She was also nominated for "Best Actress" at Prague International Puppet Art Festival, 2010.
Apple Tart Lazer Show!
Apple Tart is a performer at Cafe Cairo, Cirque le Soir, Familia, Proud Cabaret and The Late Night Shop Cabaretand an artist at FLUX Connecting Media Artists, London Museum of Water & Steam, Surreal Vintage, Art Society Soho and TRANSITION COLLECTIVE. Tonight she brings her spectacular lazer show!
Compere: Fred Snow!
The Taliesin of the compere circuit! Like a mixture of Phil Filler and Houdini he can fill a gap any size and still squeeze himself out at the end.
Plus, through till 3am, the popular London clubnight Des Was a Bowie Fan, indiepop, new wave, 80s synth pop, 60s soul and rock'n'roll dancing till the milkman rattles down Commercial Road.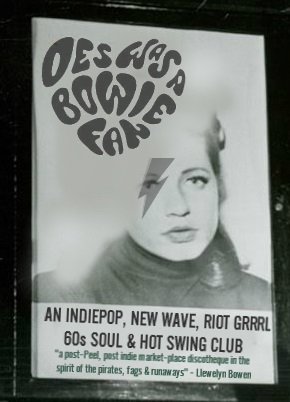 DANCING
Indiepop * New Wave * Post-Punk * 60s Girl Groups * Motown * Northern Soul * Rock'n'Roll
Expect to hear: The Smiths * Pulp * The Supremes * Blondie * The Kinks * Dexys Midnight Runners * The Beatles * The B-52's * The Cure * The Shangri-Las * Belle and Sebastian * Elvis * Orange Juice * The Beach Boys * David Bowie * ballboy * Aretha Franklin * The Ramones * The Ronettes * Marvin Gaye * Leonard Cohen * Le Tigre * Jackie Wilson * Hefner * Candi Staton * Jonathan Richman * Flowers * Richie Valens * The Temptations * The Turbans * Tcha Limberger & His Budapest Gypsy Orchestra & more.
Tickets: Ranging from £8 to £50 – pay what you can afford. Whatever this is will be massively appreciated.
£8 tickets
£10 tickets
£15 tickets
£20 tickets
£50 tickets
If you're paying at the night, beware that Limehouse Town Hall is CASH ONLY!
There is also a wonderful Shout Collective night at Jamboree before this. You will be supporting us by attending either. And thank you so much for your support so far! We are sorry that we're asking so much of you.