Let's Misbehave! With The Filthy Spectacula + The Swamp Stomp String Band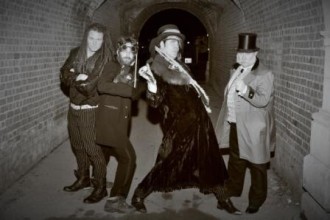 Friday 26 January 2018
The Filthy Spectacula + The Swamp Stomp String Band
Doors: 8pm till Midnight
Entry Price: £6 Advance | £8 Door
» Buy Tickets
Gypsy Punk * Pirate Shanties * Ska * Punk * Dark Cabaret * Dark Folk * Southern Gothic * Steampunk * Jazz * Country * Swing * Blues * Ragtime

Laiden with creative souls, swaggering under the influence of the old sounds of the Victorian steampunk fair, The Filthy Spectacula are a chivalrous ghost tale of a band, whipping up a dancing Gypsy storm, spewing crackling violin-infused waltzes that pack your soul in a knapsack and scarper off into the night.
Jake Watson and The Swamp Stomp String Band are not your average Americana band. Twangy Banjos, driving Guitars and a thudding Double Bass sit behind anything from drinking songs that'll have the room stomping there feet and shooting tequila to ballads that'l break even the most toughest folks, to ragtime songs of bar fights and gambling. The London based duo can often be found busking by the side of Thames in the day and performing in any haunt from high end cocktails joints to dimly lit Irish bars at night.
Taking a mixture of Jazz, Country, Swing, Blues and Ragtime – it is safe to say there music is there to be enjoyed by people young and old, rich or poor, or who just love to stamp there feet and have a ho-down."