New Orleans Stew With Paul Sanchez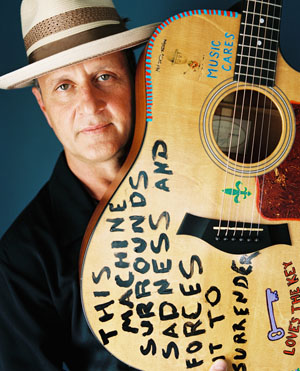 Sunday 22 January 2017
Paul Sanchez
Doors: 7pm till 11pm
Entry Price: £6 Advance | £8 Door
» Buy Tickets
A night with the critically-acclaimed native New Orleanian Paul Sanchez and his unique blend of music and storytelling, singing and breathing everything New Orleans.

"New Orleans street music, singer/songwriter introspection and rock'n'roll eclecticism with the grace of a cocktail waitress balancing a trayful of martinis at happy hour"
Wise, wise words from author John Swenson. For Paul Sanchez is all this and more. Commanding yet delicate, poignant yet raucous, beleaguered yet buoyant. And ultimately a writer of songs, a teller of stories, an entertainer. And oh so New Orleans.
Paul's musical journey began in the clubs of the French Quarter aged just 16. After playing in bands with Ellen DeGeneres' brother Vance, working with a young director Steven Soderbergh, Paul moved to New York and immersed himself in the East Village anti-folk scene in the late 80s.
As the decades shifted he became a founding member of popular roots rock band Cowboy Mouth (named after a Patti Smith and Sam Shepard play) and went on to release 11 albums with the band.
A prolific songwriter, Paul has to date released 15 albums under his own name since his debut solo release 'Jet Black and Jealous' in 1992, including live recordings and collaborations with other venerable New Orleans artists.

"the best songwriter in this town chock-full of good songwriters." Dave Kunian, May 2012.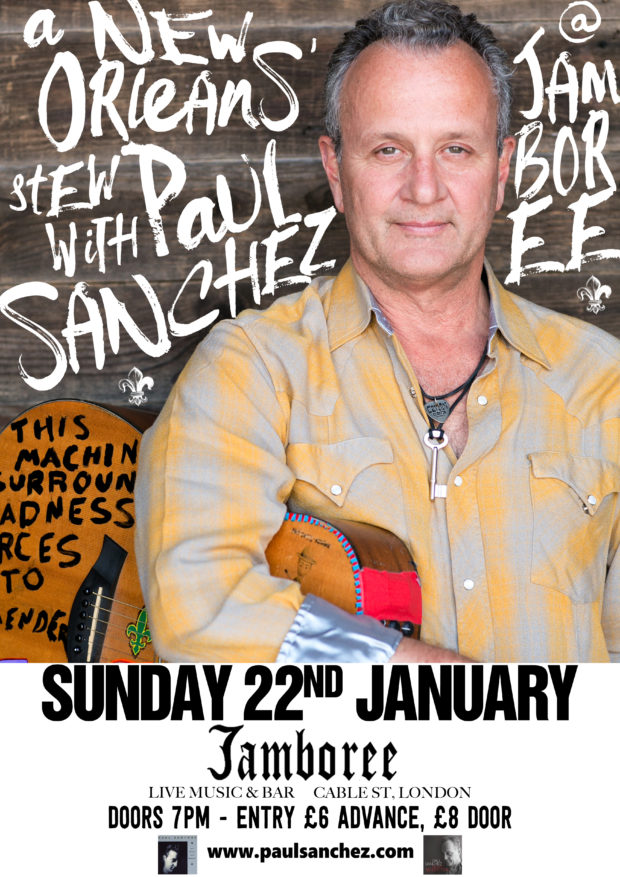 Like most New Orleanians, Paul lost his home and all his possessions due to the cataclysmic flooding caused by Hurricane Katrina and the levee failures in late August 2005. An unfathomable loss, yet Paul channelled all his bleak emotions back into his art, reviving himself as the whole city and its wonderful people somehow managed, like a phoenix from the flood waters.
Fate and a search for catharsis led to Paul becoming the creative force, writer and performer of the musical 'Nine Lives' based on Dan Baum's best-selling book about the city where he was born and the tragedy that befell it.
"Art can express such inarticulate grief in mythic, dreamscape fashion and Nine Lives does this masterfully" John Swenson, April 2012
Paul has also written songs for Darius Rucker (former lead singer of Hootie & the Blowfish) and New Orleans soul legend Irma Thomas, as well as playing himself in HBO's award-winning TV series 'Treme'.
"Paul Sanchez, America's greatest living folksinger" Tim Sommer, observer.com
2016 has seen the release of Paul's latest offering 'Heart Renovations', recorded in Hendersen, Louisiana with legendary New Orleans producer Marc Bingham. 'Heart Renovations' is an album that ranges from the humorous to the desolate to the life affirming, the whole gamut of human emotions. The tracks 'Getting Drunk in Ireland', 'Be the Light', 'If It Isn't Himself' and 'In Galway' were written on a visit to Ireland in the summer of 2015.
Paul has been touring 'Heart Renovations' to adoring audiences across the length and breadth of the US for six months.
A wonderful storyteller and an extremely talented musician, Paul is now bringing his beautiful songs and tales to this side of the Atlantic in January and February 2017.
"Songwriting for me is the easiest thing on the planet—it's the rest of life that's the challenge."