Night Owl Blues With Fred Snow and the Bootleg Trio, Archive Valley, Gabriel Moreno & The Quivering Poets + Keleigh Wolf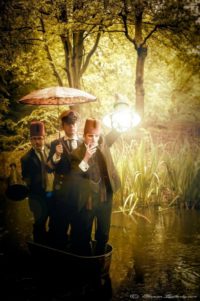 Monday 23 October 2017
Fred Snow and the Bootleg Trio, Archive Valley, Gabriel Moreno & The Quivering Poets + Keleigh Wolf
Doors: 7pm till 11pm
Entry Price: £5 at the door
» Buy Tickets
A night of barrel-house vintage, filthy swing, old-time jazz, Americana, poetry, ballads, sonatas and waltzes with Fred Snow and the Bootleg Trio, Archive Valley, Gabriel Moreno & The Quivering Poets and Keleigh Wolf…

Playing in a small group off-shoot formed from the core of The Top Shelf Band, Fred Snow and The Bootleg Trio deliver gnarly old barrel house vintage tunes and street smart wit.


Archive Valley are a trio based in Rome, Italy who draw from the repertoire of Old-Time and Americana, stripping back old melodies and building them up once again with jazz, classical and experimental folk influences. These accomplished musicians feature mandolin, banjo, double bass, accordion and piano to conjure up new soundscapes for their traditional and original repertoire.
Gabriel Moreno has been described as a modern Cohenian troubadour, an old rascal/poet song-creator, an instigator of the bardian night and a pursuer of musical, poetical and human connections. His debut album, "Love and Decdence," released in 2015 by Amber Records – UK, is full of ballads, sonatas and waltzes dedicated to the night, romance and dreamy pink smoke. Finely-crafted lyrics, melodies and passionate performances are his trademark according to the musical connoisseurs. His Quivering Poets are some of the finest and most interesting musicians in the alternative folk scene.
https://soundcloud.com/gabrielmoreno/joselin
Keleigh Wolf is an American poet, activist and journalist whose work has appeared in anthologies and publications worldwide. She regularly performs with Poetry Brothel London in the West End, is a founding member of The Little Versed Poetry Collective and also the subject of the short documentary, "Keleigh Wolf: Glowing in the Aftermath."
"Keleigh's work is an act of cannibalism and catharsis, using witchy wordplay, gravity-defying gravitas and pure absurdity – all housed in the lithe frame of her alternate universe."