Palestine Fundraiser With Epicly Palestine'd (Film Screening), Puppet Theatre, Readings & Live Music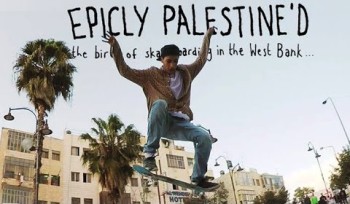 Sunday 31 January 2016
Epicly Palestined (Film Screening) + Tate Toussaint + Lucy + Mellah + Sisika + Tamarin Theatre + Ebenezer Tower
Doors: 6pm till 11pm
Entry Price: £5 at the door
» Buy Tickets
A special night at Jamboree in aid of Music Harvest and SkatePal, including a film screening, dream folk, Bulgarian folk and puppet theatre!…

*Funds from the night will go to towards running the spring placement of Music Harvest and a donation will also be made to SkatePal, featured in the screening of Epicly Palestined.
Film screening (7pm) – Epicly Palestine'd – about the birth of skateboarding in the West Bank.
Tate Toussaint – wonderful singer and guitarist playing dreamy, shimmering folk-inflected Pop songs with a rich lyrical interior. "Tate has a voice that feels like you've known it your whole life."
Lucy – Interpretations of songs from the past on the piano –
'Fisherman's Wife' by Ewan MacColl ___'Tian ya ge' by Zhou Xuan___'Ah Deere Heart' by Orlando Gibbons ___ 'Interlude' by Timi Yuru
Mellah – colourful, self-proclaimed free penny pushers from South London sing songs about emotions and the suburbs.
Sisika – Close, lyrical, earthy harmonies from 2 sisters, with warm melodic guitar, rhythmic piano lines, and small but powerful ukelele bass. They also include Bulgarian songs and English folk songs in their set- always with an interest to explore harmony and how voices interact within a melody.
Tamarin Theatre – Tiff Wear and Faith Brandon will be doing an impromptu performance of puppetry and object manipulation. Expect the unexpected. Believe the unbelievable. Obtain the unobtainable. With a potential special guest appearance, all the way from Bathalona!
Ebenezer Tower – 3 friends, 3 instruments: Emilio on organ, Gabriel on trumpet and Joe on double bass. "In 'Art As Experience' John Dewey says that any theory of art must connect art with the conditions in which it is made and experienced. The conditions in which our music is made is one of friendship- music through companionship, companionship through music. Shabba. It is also instrumental and grooves!"