Ramon Goose Presents Gig for Gaza with Najma Akhtar + Cheb Nacim + World Scatterings (feat. Aziz Ibrahim) + Adrian Nation + Shout Collective DJ's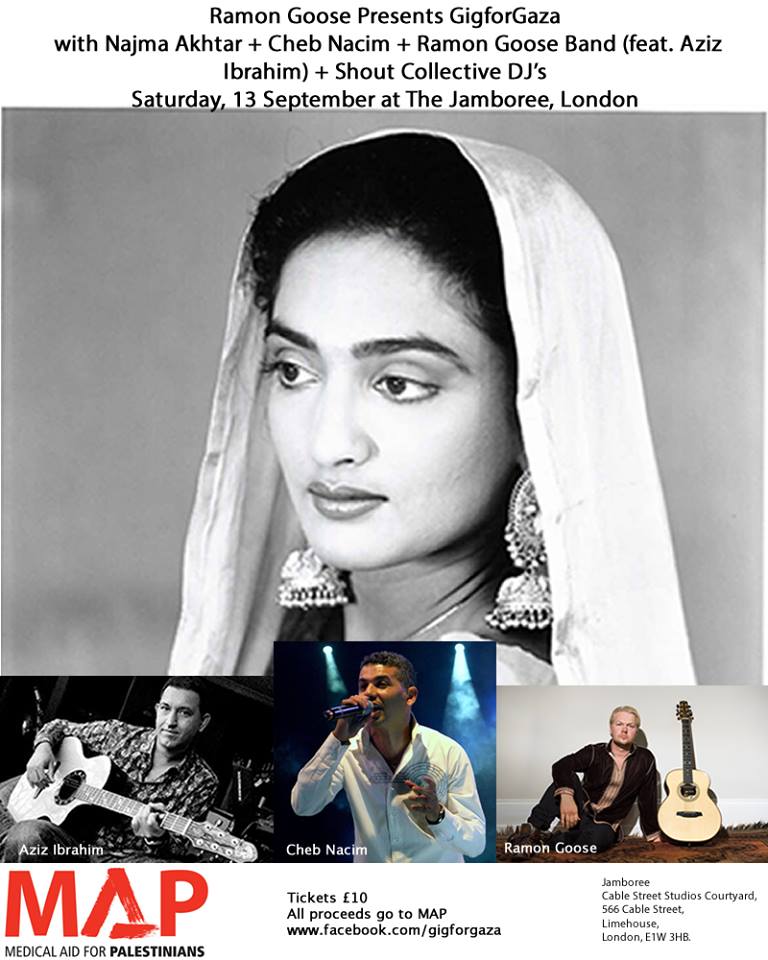 Saturday 13 September 2014
Najma Akhtar + Cheb Nacim + World Scatterings (feat. Aziz Ibrahim) + Adrian Nation + Shout Collective DJ's
Doors: 8pm - Midnight
Entry Price: £8 Advance / £10
» Buy Tickets
Ramon Goose Presents a fundraiser gig to send Medical Aid for Palestinians in Gaza (MAP) with performances from Najma Akhtar, a Indian semi-classical, folk, sufi, bollywood, Indian underground artist with undercurrents of trance and jazz fusion + Algerian Rai star Cheb Nacim + African Blues from World Scatterings ft. Pscyhedelic Asian Blues Rock dup Aziz Ibrahim + Folk artist Adrian Nation + World Beats Shout Collective DJ's
NAJMA AKHTAR
Najma has been recognised by her work as a pioneer in using subtle jazz arrangements with the traditional Indian vocal ghazal style. Following her unique and distinctive sound, Najma has inspired a new generation of musicians and composers to move into the fusion genre. Along with her fusion of subtle jazz nuances, Najma also performs Indian semi-classical, folk, sufi, bollywood, Indian underground, trance, along with the odd English song.

CHEB NACIM
Rising young star of the Algerian Rai scene whose pop sensibility and extravagant live shows make him a sort of North African Will Young.

WORLD SCATTERINGS (FEAT AZIZ IBRAHIM)
Contemporary Country Blues, Electric Guitarist, African Blues & World Music Artist Ramon Goose and his band ft. Aziz Ibrahim, a former Stone Roses and Ian Brown guitarist/co-writer who has one of the most unusual musical histories and styles any artist could hope for. Years in Reggae bands, suited in Simply Red, funky in The Players, the only Asian in prog rockers 'Asia', briefly (as in hours) the only Muslim in 'The Christians', experimental with JBK, Yukihiro Takahashi, the h band and first incarnation of the Steven Wilson Band. Unlike many players his songwriting has been the key that shapes this musician e.g.numerous credits for Ian Brown, Paul Weller and Akala to name a few.From all that came 'Aziz'. A 2 piece power rock acoustic & tabla psychedelic frenzy of 'Asian Blues' when he joined forces with tabla maestro Dalbir Singh Rattan. There is no other band like them!

ADRIAN NATION
+SHOUT COLLECTIVE DJs spinning Global Rhythms