Shout Collective Festive Retro Blues Party With Errol Linton Band + Shout Collective DJs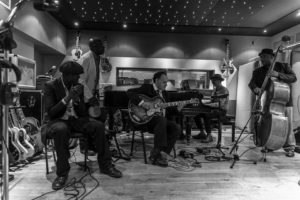 Saturday 9 December 2017
Errol Linton Band + Shout Collective DJs
Doors: 8pm till Midnight
Entry Price: £5 advance / £7 at the door
» Buy Tickets
The Shout Collective throws a festive retro blues party with very special live guests the ever-wonderful Errol Linton Band, the toughest and finest blues combo around.

Currently riding high following the release of their acclaimed new album "Packing My Bags" (Bra$$ Dog Records) the Errol Linton Band blow up a distinctive storm of funky down-home sounds and they fire up a party like no-one else. Errol is one of our finest harmonica players and a deeply soulful singer to boot, he and the band blast out raw but beautiful blues'n'boogie, spiked with the reggae of Errol's Jamaican roots: like Chess Records meets Studio One! Tonight, we'll get two smokin' sets from the full five-piece line-up which includes guitar wizard Adam Blake. Come and get a healing shot of goodtime blues.
The Shout Collective DJs – AKA Jamie Renton (Chilli Fried/Soulclectica), Joe Cushley (Balling the Jack), Norman Druker, Aly Prince and Deb Smith – will be taking the Devil's Music back to Africa, out into the big city and anywhere else that feels right for moving and grooving the people.
http://www.chillifried.com/the-shout-collective.html#sthash.6LF62Kld.dpbs
TICKETS:
£5 advance
Special combined ticket offer (this gets you into Jamboree itself and also the Jamboree fundraiser up the road at Limehouse Town Hall, which goes on till 3am)
*A range of further ticket options for this event, ranging in price from £8 to £50, is aviailable via the event page HERE