Snag It! With The After Hours Quintet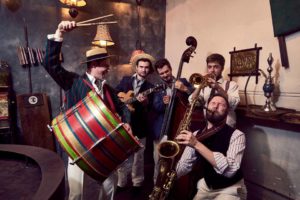 Friday 16 February 2018
The After Hour Quintet
Doors: 8pm till Midnight
Entry Price: £6 advance / £8 at the door
» Buy Tickets
Hot Jazz * Swing * Jive

Say 'Bonjour' to the Creme de-la Creme of the northern Trad-Jazz scene; specialising in all things swing. Well rested from their whirlwind tour of the UK festival circuit (Boomtowm, Bestival, WOMAD) The AHQ return to Jamboree with a 'Speakeasy – Selection' spanning the whole Century.
"Their own quirky takes on modern classics ('Toxic', 'Sing it back', 'Crazy') sit seamlessly along side an authentic repertoire of New Orleans & Gypsy Jazz" – Chris Tofu, Continental Drifts, MBE.
The After Hours Quintet are a bunch of Northerners with a compulsion for Hot Jazz. They bring their various backgrounds to bear upon a trad jazz / swing repertoire, in an attempt to resurrect the sounds musicians such as Sydney Bechet, Louis Armstrong, Benny Goodman and Django Reinhardt. Taking encouragement from the thriving Leeds jazz community, they find themselves in high demand; from fêtes, studios to stately homes.
The band shall play two sets along the course of the night. Bring your dancing shoes.
The After Hours Quintet are:
Max Miller – Guitar, Banjo
Elliot Roffe – Upright Bass
Oly Clarkson – Clarinet, Sax, Guitar, Harmonica, Saw and Vocals
Elias Cabello – Trumpet
John Arnesen – Drums, Wash Board