Snag It With The Imaginary Hat + King Cassady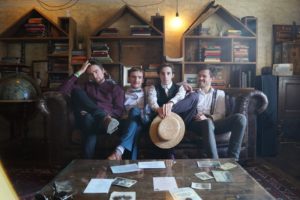 Friday 25 August 2017
The Imaginary Hat + King Cassady
Doors: 8pm till Midnight
Entry Price: £6 advance / £8 at the door
» Buy Tickets
Gypsy * New Orleans Jazz * Flamenco

The Imaginary Hat conjure a curious genre clash, fusing early jazz and swing styles with 21st Century rock, and adding a vintage twist. The band have recently released their debut EP, 'Ladies And Gentlemen, Kindly Remove Your Hats'.
King Cassady set the dancefloor scene with bristling, high-energy cocktail of Gypsy jazz and flamenco..