Snag It With The Old Jelly Rollers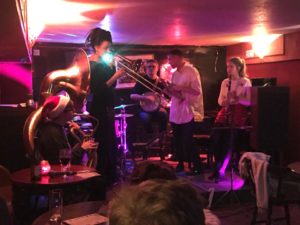 Tuesday 13 February 2018
The Old Jelly Rollers
Doors: 7pm till 11pm
Entry Price: £5 at the door
» Buy Tickets
A monthly New Orleans party at Jamboree courtesy of the sweet Old Jelly Rollers…

The Old Jelly Rollers are a group of seven young jazz musicians and musical educators from Trinity Laban Conservatoire of Music and Dance. They will be travelling to New Orleans in February 2017 to create an online resource for all music students and children in the UK.
A little clip of the antics that went down at the Trinity Laban staff party earlier – such a joy to share the festive spirit with such a fun bunch! X

Posted by The Old Jelly Rollers on Tuesday, December 13, 2016
The group aims to organise interviews with celebrated musicians in the home land of jazz, learn from the masters of this music and in addition will document their experience of Mardi Gras and music culture in the French Quarter. They will then share the story of the lives and diversity of people who play this music in the 21st century and create an educational resource in which they will share their passion for New Orleans jazz and instrumental learning with adults and children in the UK.
Traditional Jazz and the music of New Orleans is an often understated part of the DNA of music in the UK. From Ken Colyer and his Jazz men in the 1950s, to Stax and the Jazz revivals of the sixties and eighties and even the Rolling Stones; New Orleans Jazz has had a powerful influence on music in the UK.
The Old Jelly Rollers were formed to celebrate both the centennial anniversary of the first ever jazz recording and the birth of George Webb (considered by many as the father of the British traditional jazz movement) in 1917. By making jazz education accessible to a wider audience, they wish to protect this rich heritage and promote arts education.