Swing 42 With Gypsy Dynamite & Guest Dom Durner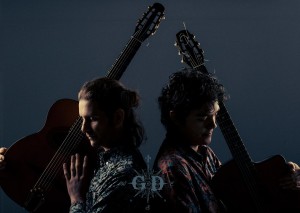 Sunday 22 October 2017
Gypsy Dynamite
Doors: 7pm till 11pm
Entry Price: £5 at the door
» Buy Tickets
Gypsy Swing * Italian & Spanish music

…The soul of Gypsy Dynamite, Filippo and Giulio explode onto stage with sizzling guitar, unique and fresh arrangements of traditional Gypsy swing, Italian and Spanish music and memorable 'million sellers' – Gypsy Dynamite style!
Gypsy Dynamite have recorded their own album at "Le QuecumBar", the most prestigious Gypsy jazz venue in Europe, and have been featured in Portobello Radio and London One Radio.
As well as performing regularly in the UK, they have toured in France, Italy, Malta and Russia, and played at a variety of places including the House of Parliament, Brasserie Zedel, Tower of London, Union Chapel, Novikov, the Century Club, Brasserie Toulouse Lautrec, Le QuecumBar, The Forge, Gaucho, Cahoots, The Hideaway and the Green Note.
For this night they will feature Canadian singer Dom Durner on vocals. Dom Durner has traveled all over the world spreading his love for music amongst the masses and started now an explosive collaboration with Gypsy Dynamite.