Tango at Jamboree!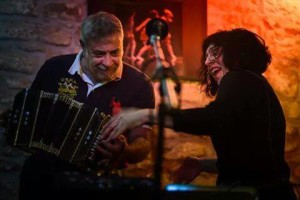 Sunday 2 April 2017
Doors: 5.45 till 11PM
Entry Price: Tango Class Only: £10 advance / Concert Only: £7 Advance; £10 at the door / Dance Class + Concert: £15
» Buy Tickets
A monthly Sunday night of tango dance classes and live music featuring Argentine Tango teacher Antonio Riva from TangoConnect with his partner Kat Henderson and ace accordion player Fabio Turchetti.
The night runs like this:
Doors 5.45pm
Tango Class: 6-7pm.
Food: 7-9pm
Live music: 8pm onwards!
Advance Dance Class-Only Tickets
Advance Concert-Only Tickets
Advance Dance Class + Concert Tickets
The TangoConnect philosophy:
Argentine Tango is firstly about connection. It is a dance, sure! But it is also a way to speak silently and tell your partner stories about yourself and your life, using your body rather than your voice. ?Let us connect you, and show you how to speak this deep and beautiful passionate language. We give you the words and the structure, so that you can become for the dance floor what a poet is for the paper.