The Shout Collective Present Najma Akhtar Trio & Shout Collective DJs!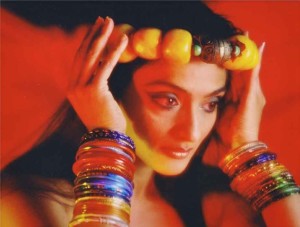 Saturday 11 June 2016
Najma Akhtar Trio & Shout Collective DJs
Doors: 8pm till Midnight
Entry Price: £5 advance / £7 at the door
» Buy Tickets
Delta Blues * Celtic * Folk * Indian roots * Ghazal (Urdu Ballad) * Sufi Sounds *

It's the June Shout Collective party with live music from the legendary Najma Akhtar and her trio. British born vocalist, songwriter and actor Najma achieved a unique place on the global music scene by creating a new genre, introducing jazz to the traditional genre of the Ghazal (Urdu ballad) and Sufi sounds. Having collaborated with Robert Plant and Gary Lucas (amongst many others) Najma is now pioneering a new style, combining Delta blues, Celtic and folk-rock with her deep Indian roots. Tonight she'll be performing two sets with her trio, previewing songs from her forthcoming album Five Rivers. This is going to be a magical evening!
On the decks resident DJs THE SHOUT COLLECTIVE: AKA Jamie Renton (Chilli Fried/Soulclectica), Joe Cushley (Balling the Jack), Norman Druker, Aly Prince and Deb Smith will be taking the Devil's Music back to Africa, out into the big city and anywhere else that feels right for moving and grooving the people.
NEW SHOUT COLLECTIVE MIX by Jamie Renton