Tipsy Gypsy Presents Op Sa! + Mutana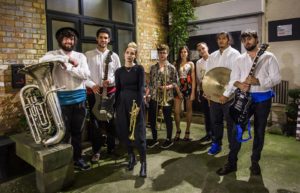 Friday 29 September 2017
The Op Sa! Balkan Orchestra + Mutana
Doors: 8pm till Midnight
Entry Price: £6 advance / £8 at the door
» Buy Tickets
Balkan Brass * Gypsy Folk * Traditional Iraqi Folk

Bone-shaking and beautiful Balkan Brass and Gypsy with the Op Sa! Balkan Band exploring and expanding their fine repertoire of originals, also playing classic songs with roots in the Serbian Kolo, the Turkish Cocek and beyond!
Mutana is an Arabic troubadour from Baghdad currently based in London. Before leaving Iraq back in 2004, Mutana was the main singer in a Baghdad 5-piece band fusing Arabic tunes with Rumba rhythms. Due to the occupation and the eruption of the civil war in Iraq, all band members left the country for Europe and the United States.
https://soundcloud.com/mutana_troubadour/the-longing-song
Traveling through Europe, Mutana finally arrived to London where he stayed as a refugee for over five years and focused on writing new material, lyrics and songs of his own compositions, recently producing his first album " Gypsy Road" and filming his first music video of his song Dana Dana (Pearl, Pearl). He is also re-making some of Iraq's well known traditional folkloric songs played on gypsy chords and keys.